This article was written by Frank Viola and was published in his exclusive Unfiltered update list which goes out every week to his email subscribers. If you enjoy this update, you can get these Unfiltered updates by signing up here. It's FREE.
—
When a plane is in mid air and cannot descend, it circles itself repeatedly until it's given permission to land.
We call this a "holding pattern."
Many of you are in a holding pattern right now with respect to one or more areas of your life: be it your spiritual life, your ministry, your business, your health, your career, and/or your relationships.
You're in constant motion, circling ground you've seen before, but you're making no progress.
In this article, I want to share a few insights I've discovered about how to react when you're in a holding pattern.
They are:
Recognize that you're not alone. Recently, I conducted a survey on my Facebook wall and 95% of those who responded said they were stuck in a holding pattern in some arena of their lives. So take comfort. There's nothing wrong with you.
Accept the fact that much of life is waiting. It's never easy to wait. We must wait on friends, family members, employees, employers, doctors, email responses, phone calls, God, etc. Waiting is a huge chunk of life on this side of the veil. Consequently, the virtue that most of us have a love-hate relationship with (meaning, we love to hate it!) — patience — is required. Our technological world has addicted us to immediacy, but God seeks to work patience (endurance) into us. And Jesus Christ is Patience incarnate. So embrace the wait.
Use the time for preparation. Paul didn't begin his apostolic ministry until many years had passed after his conversion. Moses spent many years of doing much of nothing preparing for His ministry. Jesus spent most of His adult life as a Nazarene artisan before He began His life-changing ministry. Regardless of what you're waiting on — a career, a business, a new or restored relationship, a ministry, a partnership, etc. — the holding pattern is your time to prepare.
Refuse to lose hope. As I've discussed elsewhere, discouragement is normal and it's not a sin. Despair is what you want to avoid because despair means you've lost faith and hope, the two ingredients that move God to act on your behalf. More on this later.
Don't let your mind go to certain places. When in a holding pattern, your mind can easily go to dark places of worry (about the worst possible outcomes) as well as temptation. Last month, I gave you a proven strategy to defeat worry. Resist it like the plague. Believe that the Lord knows what He's doing and will turn your trial into gold.
Discover the intended lesson. We often get stuck in the weeds and fail to see the big picture that God is seeking to paint in our lives. Poke your head above the clouds and get perspective. Each holding pattern contains a specific lesson to teach us. Consider before the Lord what that lesson is. Asking, "what can I learn from this?," transforms the holding pattern from a roadblock into a life lesson.
Stand on the promises of God. Here are some Scriptures that have encouraged me to have faith and hope during the holding patterns of life and avoid despair:
"Now faith is the assurance of things hoped for, the conviction of things not seen." ~ Hebrews 11:1
"For we walk by faith, not by sight." ~ 2 Corinthians 5:7
"Therefore I tell you, whatever you ask in prayer, believe that you have received it, and it will be yours." ~ Mark 11:24
"But they who wait for the Lord shall renew their strength; they shall mount up with wings like eagles; they shall run and not be weary; they shall walk and not faint." ~ Isaiah 40:31
"Consider it a great joy, my brothers, whenever you experience various trials, knowing that the testing of your faith produces endurance. But endurance must do its complete work, so that you may be mature and complete, lacking nothing." ~ James 1:2-4
"… [We] are of the faith of Abraham, who is the father of us all (as it is written, "A father of many nations have I made you") in the presence of Him whom he believed, even God, who gives life to the dead and calls into being that which does not exist. In hope against hope he believed … Without becoming weak in faith he contemplated his own body, now was good as dead since he was about a hundred years old, and the deadness of Sarah's womb;  yet, with respect to the promise of God, he did not waver in unbelief but grew strong in faith, giving glory to God,  and being fully assured that what God had promised, He was able also to perform." ~ Romans 4:16-21
Consider that when God promised that Abraham and Sarah would have a son, Abraham was 75 years old. It wasn't until Abraham had his 100th birthday — 25 years later — that the promise came to  pass.
Try to imagine a 25-year holding pattern. I suspect that yours and mine are much shorter.
If you apply these seven principles, you'll inevitably make it to your destination. And when you look back, you'll discover that what first felt like a disheartening setback was a valuable learning experience in disguise.
NEWS
The new productivity & creativity program – PROLIFIC – is still available.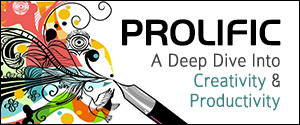 RECENT ARTICLES (that you may have missed)
In our leadership-frenzied Christian culture, I've opted for a different label for leadership. That label is influence. Despite the unhealthy love-affair that countless Christians have with "leadership" and being "a leader," the truth is, if you're a follower of Jesus Christ, you're an influencer. Your influence may be large or small, it may be good or bad, but it exists …
8 signs of a modern-day Pharisee
So I've been watching the Star Wars saga, from the 1977 debut to the upcoming release just around the corner. This tidbit accounts for the opening paragraph below. Even though it's been "a long, long time ago in a galaxy far, far away" since Pharisees were running around in Century One causing trouble for God's messengers, Pharisees and Pharisaism are still here. They're like the poor. They'll always be with you …
5 things I wish older Christians told me
I could write a book on the topic because there are far more than 5. But this is an email update, not a book. I wish an older Christian told me the following when I was in my 20s. It would have saved me a lot of aggravation, frustration, discouragement, [fill in the blank]. Hold on to your chair. These are blunt, even unsettling, observations …
Why "pray and read your Bible" is inadequate
Before you have an apoplectic fit, let me clear the table by saying emphatically: I consider the Bible to be God's revelation, fully authoritative, fully inspired, and fully reliable. For that reason, I read the Scriptures regularly. I mediate on them, seek the Lord through them, and study them. And to the both of you who have read my newer books [cough], I expound the Bible, quote it, cite it, teach it, and seek to unveil it in those books …
Judge vs. Judge Not — Which Is It?
Here in the USA we are in the midst of another run for the presidency where a small number of people have lost their minds. Scratch that. I mean, where a small number of people have decided to run for the highest office in the land. Not a few of us are experiencing regular bouts of deja moo whenever we turn on the news and hear the politicians pontificate. (Deja moo = the acute feeling that you've heard this bull before.) …
What 3.42 Billion Women Are Missing Out On (spoof, kinda)
Dear Women and Men of Planet Earth, It's March 2016 and Mary DeMuth's book – The Day I Met Jesus: The Revealing Diaries of Five Women from the Gospels – has been out for a year. According to my painstaking research (okay, I asked Siri on my iPhone), approximately 3.42 billion women still haven't gotten a copy of Mary's book. This is most perplexing to me. More so than trying to understand Stephen Hawking's take on quantum mechanics …
A Gift for You (conference messages)
In 2012, I had the privilege of speaking in an unforgettable conference in Kentucky. The title of the conference was "God's Favorite Place on Earth." This was a year before the book by the same name was released. What follows are the messages from that conference …
Christians are behind the ball again, but you don't have to be
Sadly, the world often blazes past the Christian community, leaving it to cough up dust. Eventually, the Christian community plays catch up. It's been this way with creativity. With music. With movies. And with other forms of art. But the big dinosaur in the room right now is the economy. "Well Frank, it's about time you told us your opinion about Clinton, Cruz, Trump, Sanders and their plans for the economy." Hold your fire: I don't mean the financial economy. I mean the connection economy …
3 Killer Lessons from THE WALKING DEAD
AMC's TV drama The Walking Dead is the highest rated series in cable television history. I'm not a zombie guy (though some mornings, I might resemble one). Unlike many of my peers who possess a Y chromosome, slashy-burny-butcher-gore films don't appeal to me. It's for this reason that I've stayed clear of watching The Walking Dead. That is, until a friend told me that the show is largely about surviving in community over against blowing zombie carcasses to the moon …
4 Sobering (and Uncommon) Observations about ISIS
The recent spate of terrorism employed by ISIS has scared the liver out of people around the world, it's barbarism even chilling the blood. Numerous Christians have weighed-in on the problem. And emotions run hot on all sides, sometimes to over-boiling. Social media sites are ablaze with opinions, laments, and outrage. Some are clamoring, "Off with their heads! Spare none of them!" …
Get Frank's weekly UNFILTERED updates
In each update, Frank shares incisive, challenging, and prophetic content that's not "religiously correct." He also notifies you about FREE resources and discounted bonuses.
As soon as you join the update list, you will receive his eBooks, Discipleship in Crisis and Rethinking the Will of God, as FREE gifts.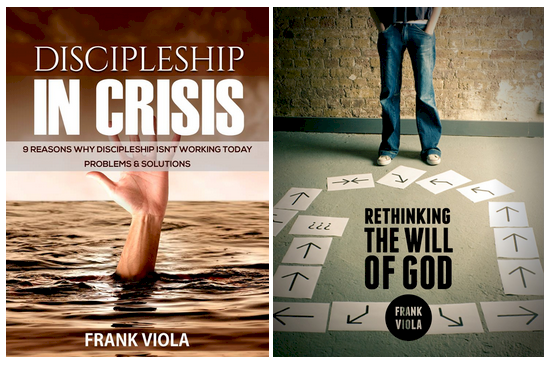 Share this update using the buttons below (please do not copy or paste the update online).