Some have dubbed them the Lennon & McCartney of Christian publishing.
Authors Leonard Sweet and Frank Viola have produced two landmark books on Christology.
Jesus Manifesto in 2010 (Thomas Nelson)
Review by Donald Stevenson: A 2010 release, Viola teams up with Leonard Sweet for the first time. The book contains crushing power and clever riffs focusing on the captivating glories of Jesus. Chapter 2, "A Bottle in the Ocean," is a composition that gradually builds its crescendo before culminating into a breathless climax. Chapter 3, "If God Wrote Your Biography," is a uniquely creative piece that creates an other-worldly effect. The book's tempo speeds up as its electrifying message unfolds. Viola and Sweet make for a poetic and prophetic pair, kicking the supremacy of Christ into the stratosphere. Presents Jesus beyond the realms of anything you could possibly imagine. The legacy of the Viola/Sweet brand stands unparalleled.
Jesus: A Theography in 2012 (Thomas Nelson)
Review by Donald Stevenson: Released in 2012, Viola teams up with Leonard Sweet again to create a majestic, magisterial, astonishing tome that unfolds the Jesus story throughout the entire Bible. The book contains plenty of the old magic that is found in Jesus Manifesto, but it's heavier, more crushing, a pulsating and robust work. Viola's rousing chapter on what Christ was doing before creation charts entirely new directions. Sweet's chapter on the micro-view of the Genesis creation is a beautifully written lyric. The two literary titans have given the Christian audience another unique look at Jesus.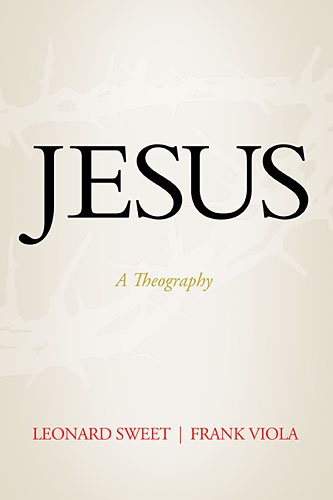 From their Facebook walls today, it appears that the two "literary titans" will be writing a third book in the series.
(Their Facebook update says the shot below was taken in September 2014 during their "book mapping" meeting, and their meeting was inspired by the song-writing collaboration of McCartney and Lennon shown on the left photo.)