This article was written by Frank Viola and was published in his exclusive Unfiltered update list which goes out every week to his email subscribers. If you enjoy this update, you can get these Unfiltered updates by signing up here. It's FREE.
—
I could write a book on this topic because there are far more than 5. But this is an email update, not a book.
I wish an older Christian told me the following when I was in my 20s. It would have saved me a lot of aggravation, frustration, discouragement, [fill in the blank].
Hold on to your chair. These are blunt, even unsettling, observations.
1) You'll turn your head and you'll be 40 years old. So live in the present and savor every moment. You cannot rewind the clock of your life.
When I was in my late 20s, an older friend in his 60s said to me, "Frank, you're going to turn your head and you'll be 50."
As I write this update, I'm 50 (still younger than Johnny Depp, mind you. And I'll always be younger than Johnny Depp!). But my friend was right. I turned my head and I was 50.
What I wish he would have added was …
"Strive to always live in the present. Savor each moment of your life, like a glass of fine wine. Don't mainline or inhale it. Because your life will slip by before you know it."
Have you ever seen the movie, Click? Life is a slightly slowed down version of that film.
At 50, I can say that with sad confidence.
So the moral of the story is: Don't let the frantic pace of your youth suck you into life's breakneck vortex. Throw your hands on the gears, slow them down a bit, and take stock.
Redeem the time for the days are evil.
2) Life won't get easier. So learn to accept trials, disappointments, suffering, and incalculable loss.
On some levels, life will become easier. Thank God, junior high is over. Can I get a tiny amen on that?
(Alas, the memories of middle school. In my eyes, a pencil sharpener was a knuckle destroyer and on some days I treated P.E. as though it were the Olympics! I do miss Dodgeball, though. But I digress.)
Speaking of junior high, when I hit my mid-30s, I was stunned to discover how many adults act like they're still in middle school.
Searing jealousy, two-faced back-stabbing, unabashed gossip, scorched-earth drama, perceived slights that never took place, schoolyard belittling, sophomoric one-upmanship, imbibing slander and spreading it, etc. all run at high tide among adults … even "Christian" adults.
Sigh.
Yes, these tactics are carnal, immature, absurd and appalling. No, not every adult deploys them. But I've seen so much juvenile behavior and sharp elbowing among grown men and women that it's unnerving.
I used to be an angel, but the backbiters chewed my wings off.

The fact is, as each year passes, you'll weather one crisis only to meet another.
Life will never become void of pain, discouragement, disappointment, and periods of suffering.
Well, you do get some breaks between explosions. Then the napalm bombs start dropping again.
But remember. These are the tools of your Lord to transform you. So don't waste your sufferings. Lean into them to see Christ in a fresh way through each difficulty.
As I've defined it elsewhere, a crisis is an unwelcomed opportunity to discover a new aspect of Jesus Christ.
And what you see depends on where you stand.
So seek to stand in Christ and view things from His perspective. And learn the secret of living "care-free."
Casting all your care upon Him, for He cares for you.
3) Christians will break your heart.
If the New Testament story teaches us anything, it teaches us this: Some of the greatest pain in your life will be dished out to you at the hands of "Christians."
This was true in the case of Paul and even Jesus ("I was wounded in the house of my friends"). Calm down, Citizens, I know that "Christians" came after Jesus ascended.
I'm talking about God's people and even the Lord's own followers (if you recall, one of the Twelve betrayed Him and another denied Him thrice; and all His male followers checked out during His darkest hour.)
Persecution from fellow Christians has come to the doorstep of every great woman and man of God who impacted the Kingdom of God. The pages of church history are bloodstained. There's carnage in every chapter.
And the passing parade continues.
Same torches, same pitchforks, just different faces.
So don't be surprised. And get ready to discover the enduring virtues of suffering with Christ; some of them being brokenness, humility, forebearance, forgiveness, patience and the art of taking the high road.
Something more Jesus-followers need to learn in our day, in my humble (but accurate) opinion. 🙂
Only a relationship with Jesus Christ will enable you to survive without becoming embittered or destroyed.
4) A great deal of what you are certain about now, you'll question later in life.
Someone famously said, "When I was a boy of fourteen, my father was so ignorant I could hardly stand to have the old man around. But when I got to be twenty-one, I was astonished at how much he had learned in seven years."
(Ascribed to Mark Twain, but that's debated.)
With age comes maturity. With experience comes wisdom. And part of wisdom is discovering that the more you learn, the more you realize just how ignorant you are.
It's as though God hard wired the universe to challenge our pride.
When I was in my early 20s, I was a theological expert. I knew everything.
Today, I wish I knew half of what my older self knew. I mean, why can't life's problems hit us when we're 21 and we know everything?
Because life is a crash course in teaching you what you don't know. Especially those things you once asserted as unimpeachable fact.
So tread humbly. Always.
For we know in part.
5) The commitments you made in your teens and 20s will be severely tested in your early 30s.
This includes your commitment to Jesus Christ.
It's when a person hits 30 — or thereabouts — that they begin to reevaluate the commitment they made to the Lord. And they either dig in or bail out. Sure, some people go through this crisis before 30 and some experience it in their 40s.
But there will come a point where your faith will be tested beyond measure. You'll wonder if God exists, if the Jesus narrative is true or makes sense, if the Bible can be trusted, etc.
Expect it. And don't make the mistake of walking off the field before the whistle blows. Make a stake-in-the-ground commitment to play full out for the Lord.
The one who endures until the end shall be saved.
So there you have it.
5 things I wish older Christians told me when I was younger.
I've left out a lot more, but again, this isn't a book folks.
If you're in your 20s or 30s, I trust this helps. And you can pass these gems on when you are older, after you've lived through them yourself.
If you're older, do me a favor and share these things with those who are younger — assuming you agree. Which if you don't, we can still be friends. 🙂
And for the 13 cents it's worth, here's my most popular blog post from September: How to Know If You're Really Making Spiritual Progress
Warmly,
fv
Psalm 115:1
Get Frank's weekly UNFILTERED updates

In each update, Frank shares incisive, challenging, and prophetic content that's not "religiously correct." He also notifies you about FREE resources and discounted bonuses.
As soon as you join the update list, you will receive his eBooks, Discipleship in Crisis and Rethinking the Will of God, as FREE gifts.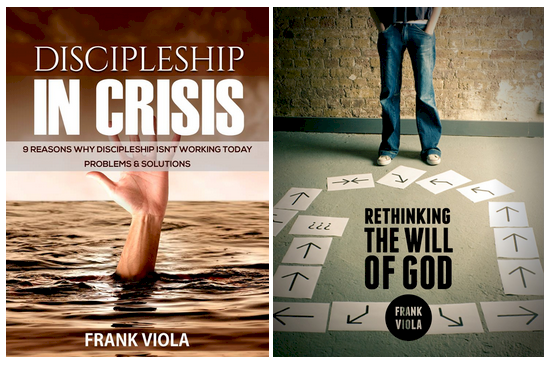 Share this update using the buttons below (please do not copy or paste the update online).